Two Ways To Get A Free Unstoppable Domains NFT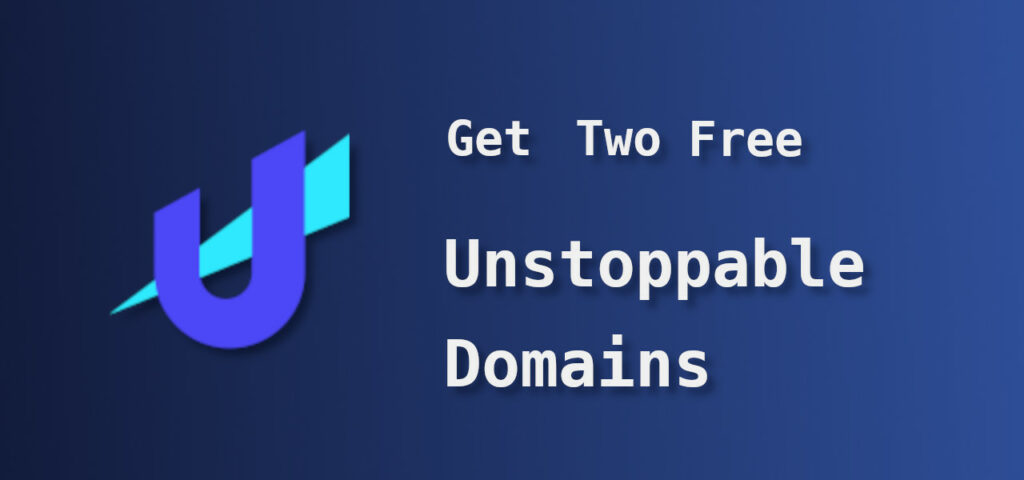 Recently, I wrote about the release of the new .blockchain extension from Unstoppable Domains what I didn't know at the time is that there is a way to receive a free .blockchain Unstoppable Domains to add to your NFT collection, And I also found a way to receive a free .wallet Unstoppable Domains.

Unstoppable Domains partnered with Blockchain.com to give a free .blockchain domain to Blockchain.com wallet users. Find the wait-list form here: https://www.blockchain.com/waitlist/blockchain-domain. If you are interested in grabbing a free .blockchain domain then first grab the Blockchain.com wallet. A few caveats are in order
The free domain must include at least one number.
The domain is a .blockchain (not .crypto, .nft, .coin, etc.).
Likely involves KYC verification.
If you are okay with providing documents proving identity and would like a free .blockchain domain then signup for the wait-list, link above.
If you want a .blockchain domain that doesn't have a number, want another extension like a .crypto, .coin, .bitcoin etc., or prefer not go through the wallet's KYC then use my affiliate link, (also read below about the second free .wallet domain for using HB Wallet):
Another way to receive a free Unstoppable Domains NFT is by downloading the HB Wallet which is a popular ETH wallet in Japan. From inside the wallet you can claim a .wallet domain. HB Wallet is available for Windows and Mac in the desktop version and for mobile both Android and iOS are represented, and also have a APK download available. The caveats are similar to above minus the KYC verification
The free domain must include a number.
The domain is a .wallet extension (not .crypto, .coin, etc.).
I am not sure how long either of these offers are available for so if you are interested in using them, probably better sooner than later.
Both these wallets have integrated Unstoppable Domains for use in resolving cryptocurrency addresses meaning that when someone types your domain into a wallet that will resolve the domain a lookup is done for the Coin or Token and if an address has been attached to the domain for that coin or token it is resolved or changed to the relevant address. Saves a lot of copy pasting of addresses and works with both of these wallets and a growing list of other wallets.
Not all wallets will resolve all the domain extensions but it is changing quickly, check your favorite wallet's compatibility for Unstoppable Domains with this tool.
Search for your Unstoppable Domains NFT.
This post contains affiliate links, using them costs you no more and I make a small amount, Thanks!
This post was originally published here: https://lemsmyth.com/two-ways-to-get-a-free-unstoppable-domains-nft/ and has been cross posted at Publish0x read.cash and on the LBRY blockchain.