Some Ways to Earn a Small Amount of Crypto to Get Started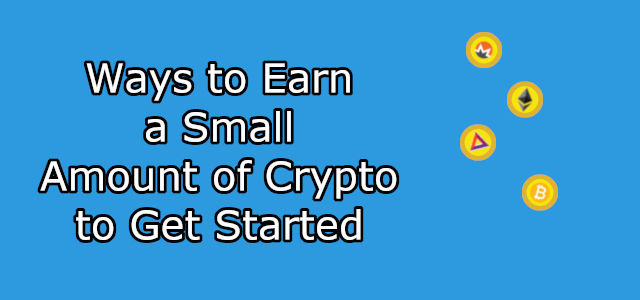 Some ways that you can earn some crypto to get started. While you may not get rich you will be able to get started, learn and grow your assets from there. Of course you can always just buy some crypto from an exchange or even from a friend, family member, or private party. But this is about some ways to earn small amounts while learning about crypto-currencies and blockchain technologies.
Please note that this post contains affiliate links and if you choose to use them, I may be paid, however, the product or service will not cost any more than if you do a search and go directly to the mentioned product or service.
One of the best ways to get started with crypto-currencies is to earn them by doing stuff that you would normally be doing anyways. Just by changing the browser that you are using you can start to earn some crypto. Brave is an excellent browser, based on Chrome but has advertisements and tracking blockers built into it. This makes for a nice experience if you are used to a standard web browser, while there are extensions for any browser to block ads and trackering, Brave has built this into the browser so no need to add on extensions. Brave also has a feature that is voluntary, where you can choose to view ads inside the browser. These are not regular ads, but brave specific ads that are small notifications that can appear up to five times an hour according to your settings, they can also be completely turned off if you don't want to be distracted. For viewing these ads you will be rewarded in Basic Attention Tokens (BAT). You can use the BAT to tip your favorite sites, or content creators, or save it up and but swag, gift cards, or save it up for yourself.
Publish0x is a growing site that you can read, blog style posts and tip the writer. As you are tipping the writer you can choose to retain some of the tip for yourself, the tips come from the website, and do not cost you anything. As you are reading and tipping you are also earning some crypto, while helping writers earn crypto. If you have a knack for writing you can sign up to become a contributor and earn even more. Publish0x is a site that I have been visiting for a while and it is growing, while it was and still is crypto/blockchain focused there is an increasing number of posts about other topics now. It is a nice way to learn and earn some crypto, while showing support for the authors that you appreciate. Currently they pay tips in either Ether (ETH), Basic Attention Token (BAT), or Loopring (LRC), in what seems a somewhat random selection.
Steemit
Steemit has been around for some time and is a large social network/blog on the blockchain. You can earn crypro for authoring blog style posts on Steemit. Steemit has its own coins that published articles receive in a ratio of 50% Steem Power, 25% STEEM, and 25% Steem Backed Dollar (SBD), depending on the number of views, likes, comments received.
Read.cash is another site that you can earn some crypto for writing, reading, commenting on articles. It is similar in some ways to Publish0x, but where publish0x doesn't pay for comments and upvotes, read.cash does. Read.cash pays in Bitcoin Cash (BCH) and I recommend that you check them out. If you write there is no reason that you can't post to all of the sites that I mentioned, plenty of authors do from what I can tell.
If you watch Youtube videos, and who doesn't then you should create a LBRY account to join the future, earn LBRY credits (LBC) as you watch videos. LBRY allows for the sharing of other formats also including, PDF, Markdown/text, Images, as well as videos. If you create content you can earn per view of your content, and from tips from the audience. Check the Rewards page after signing up for more ways to earn.
Coinbase is a crypto exchange, a marketplace that you can buy, sell, or trade many crypto-currencies, both for other crypto and for fiat currencies (Dollars, Euros, Pounds, etc.). While there are many different exchanges, this one has a feature that others do not, it has a way to earn some crypto by watching some short videos about different cryptos, it does require a verified account and some other requirements, but if you qualify, you can earn some crypto while learning about the various crypto protocols. The dashboard currently shows up to $171 available currently in crypto if you qualify and complete all the mini-courses. Use this referral link, and receive $10 of $BTC after verifying and funding a Coinbase account.
Crypto.com is another exchange. If you want to open a crypto.com account and use referral code: tkt3e5rpnb before October 31, 2020, we will each get $50 if you create and verify an account. It will only payout the $50 CRO, if the $50 is staked in CRO token, for more information. Pretty sweet deal right?
These are some ways that you can earn a small amount of crypto to get started learning, and experimenting with various coins, wallets, exchanges, have some other ways that you know about to earn some crypto leave them in the comments below.
Thanks for reading and happy crypto adventures.