1996 Peterbilt 379 For Sale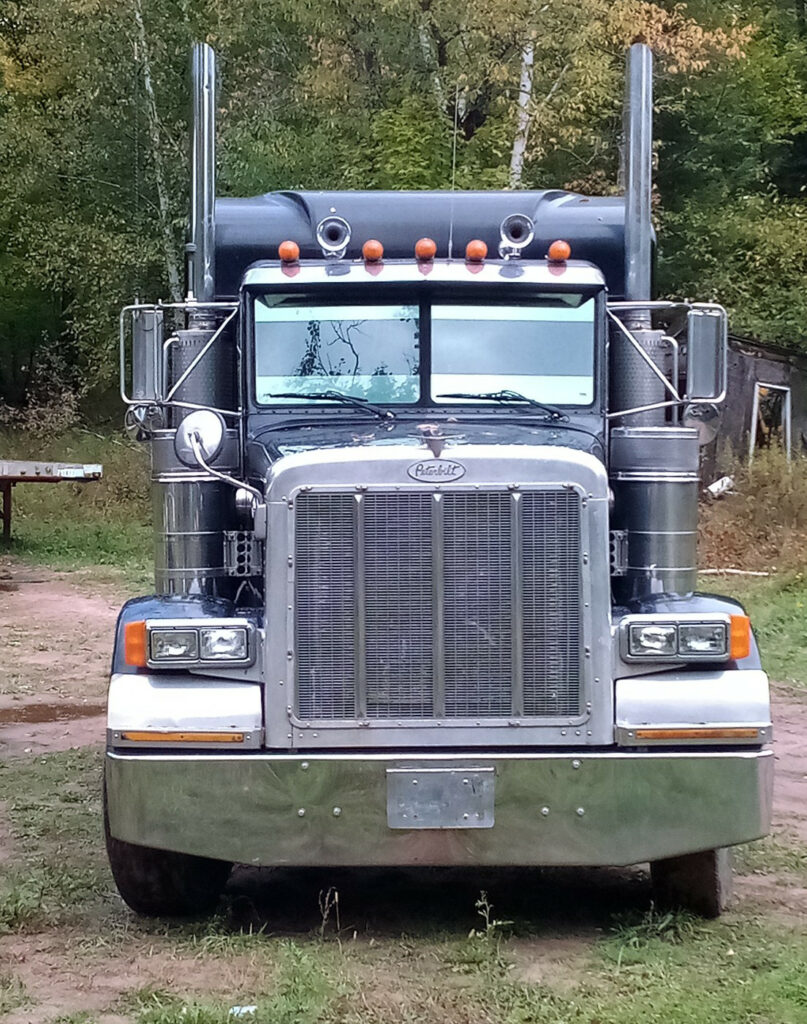 1996 Peterbilt 379 Cummins N14 450hp, Super 10 speed Manual, Eaton DS-402 Rear Ends, Low Air Leaf Suspension, 60″ Unibilt Sleeper, Cab/Sleeper Air Ride, Tilt/Telescopic, Air Ride Seats, Cruise Control, Jake Brakes, Dump Valve, Fontaine Air Sliding Fifth Wheel, Gullwing Bumper, Dual 16″ air cleaners, Dual Exhaust, Dual 150 gal. Aluminum Fuel Tanks, Stainless Steel Trimmings.
Truck has side farings and roof faring (roof faring not currently installed), new exhaust (mufflers, y-pipe, down-pipe, lower elbows), has a few bumps and dings but overall a good solid truck.
Aluminum Steers, Steel Drives, Definitely could use a set of Steer Tires, Drive Tires ~8/32″ Front Drive Axle Tires, ~17/32″ Rear Drive Axle Tires. Vinyl Interior in Good Condition, needs a mattress and a sleeper dome light.
Price: $24,500
VIN: 1XP5D68X8TN373095
Wheel Base: 250″
Double Frame: No
Color: Black
Power Window Driver: No
Power Window Passenger: Yes
Power Mirrors: Yes
Title Information: Clear Title
Tire Size Steer: 11R22.5
Tire Size Drive: 22.5LP
Wheel Type: 2 Aluminum Front, Steel Rear
Tire Condition: All Tires 60% or Better
Tires: Recaps
Headache Rack: No
Axle: Tandem
Lift Axle: N/A
Engine Make: Cummins
Engine Model: N14
Engine Horsepower: 450
Sliding Fifth Wheel: Yes,air
Abs: Yes
Suspension Manufacturer: Peterbilt
Suspension Type: Low Air Leaf
Sleeper Style: Unibilt
Air Ride Cab: Yes
Side Fairing: Yes
Roof Fairing: Yes
Condition: Above Average
Air Ride Driver Seat: Yes
Air Ride Passenger Seat: Yes
Power Seats: No
Exhaust Type: Dual Vertical
Fuel Tank: Dual 150 Gallons Aluminum
Heated Mirrors: Yes
Sunvisor: Yes
Brake Condition: All Brakes 80% or Better
Drum Condition: All Drums 60% or Better
Ratio: 3.55
Tilt Wheel: Yes
Telescopic: Yes
Air Conditioning: Yes
Power Windows: Yes
Power Locks: No
Structural Damage: No
Power Steering: Yes
Dump Valve: Yes
Apu: No
Sleeper Size: 60″
GVW: 46,000
Transmission Make: Eaton
Transmission Type: Super 10
Overdrive: Yes
Premium Stereo: Yes
AM/FM: Yes
Mp3: Yes
Compact Disc: Yes
Rear End Type: Eaton
Cruise Control: Yes
Engine Brake: Yes